Description
Price
Quantity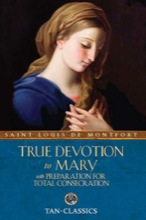 Considered by many to be the greatest single book of Marian spirituality ever written, True Devotion to Mary, is St Louis de Montfort's classic statement on the spiritual way to Jesus Christ though the Blessed Virgin Mary. 
In this beautiful and sublimely inspiring book, de Montfort explains the wonderful spiritual effects which true devotion to Mary brings about in a person's life. 
This new edition in the TAN Classic format includes an expanded Preparation for Total Consecration with readings and prayers. There is no better way to advance quickly in holiness, no better way to please God, and no better way to guarantee one's present sanctity and eternal salvation than the true devotion to Mary.
Manufacturer Item:
TC1032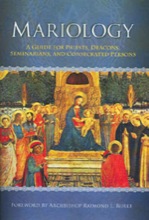 Deacons, Seminarians & Consecrated Persons
Fifteen international Mariology scholars contributed to the compilation of Mariology: A Guide for Priests, Deacons, Seminarians, and Consecrated Persons. The book features a Foreword and Imprimatur by St. Louis Archbishop Raymond L. Burke, who writes, "Mariology: A Guide for Priests, Deacons, Seminarians, and Consecrated Persons is an extraordinarily complete and rich tool for coming to a deeper knowledge of the teaching of the Church on the Blessed Virgin Mary, for growing in Marian devotion and for developing the means of communicating knowledge and love of the Mother of God to others." 
The book offers answers to many of the questions that come up in ministry, with a thorough treatment of the Church's long-standing teaching on the Mother of God. The anthology, edited by Dr. Mark Miravalle of the Franciscan University of Steubenville, features 17 chapters divided among four major sections:
1) Mary in Scripture and the Early Church;
2) Marian Dogma;
3) Marian Doctrine; and
4) Marian Liturgy and Devotion.
Manufacturer Item:
3202(9781579183554)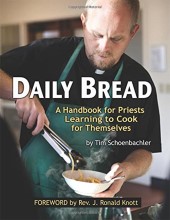 By: Father Ronald J Knott
 This book is about all the basics of cooking specifically written for priests who want to learn how to cook. This is not just a book of recipes, but about everything involved in cooking for yourself or others. There is general information about cuts of meat, poultry, pork, seafood and vegetables 'how to choose them, store them and cook them in a variety of ways. There are lists of the cooking tools and equipment every kitchen should have on hand as well as the essential items that should be in one's pantry. Because this book is targeted to the single cook many recipes have been reduced to single servings. The recipes in this book offer a wide variety of the basic and most common comfort dishes. If you are just beginning the adventure of learning to cook for yourself, this book will be a good resource for that journey. 978-0985800161. Ronald J. Knott. 160 Pages.
Manufacturer Item:
9780985800161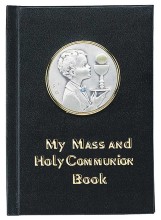 Salerni Sterling Silver Medallion, for Boy
Leatherette Edition of My Mass and Holy Communion Book featuring the Salerni Sterling Silver First Communion medallion, for a boy. Gift Boxed.