About Us
>
Standing Order Service

Try our standing order service for all of your consumables and annuals. We guarantee our delivery service will be on time, freeing you, our customer, from the burden of ordering. Monthly - Quarterly - Yearly
Contact us today either by phone at 1-800-626-3545 or by email at info@tonini.net to start making your life easier.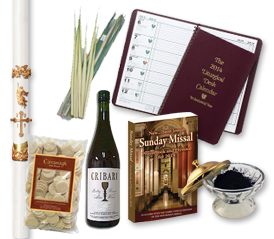 Tonini - Standing Order Service
What is Tonini's Standing Order Service?
Tonini's Standing Order Service is one of the many ways we try and go above and beyond in serving our customer. You set up an order once and then tell us how often you would like it to take place. We can set up your order to reoccur on whatever time-table you would like. This means you can have altar breads or wine delivered on a monthly basis. Liturgical Desk Calendars, and Palm can be delivered annually. Tell us what items and how often and let us do the rest.
Benefits of Standing Order Service
Relieves the burden of remembering what and when to order.
Some items , such as palm are only ordered once a year. Our service helps you remember the amount you ordered and places that order in time so you never have to worry about ordering too late. This saves you time and trouble of figuring out time frame and quantity, year after year.
Get your order on time
Offered at no additional cost
We only charge for the price of the items and shipping cost. We don't charge a penny for this service. It is our pleasure to help you better prepare for the upcoming liturgical year.
How can I obtain this service?
Contact us and we will get you all set up. You can email us at info@tonini.net or call our toll free telephone number 1-800-626-3545.
Standing Order Items
Almost any item we carry can be made into a standing order. Below are some of the items that are regularly made into standing orders.
Communion Breads
Altar Wine
Palm
Ordos
Ashes
Paschal Candles
Advent Candles
Sanctuary Candles
Votive Candles
Liquid Paraffin Candles
Devotional Candles
Daily Mass Record Books
Liturgical Desk Calendars
Ecumenical Daily Appointment Books
Workbooks