Other Departments
>
First Communion Special

20% Discount Off First Communion Items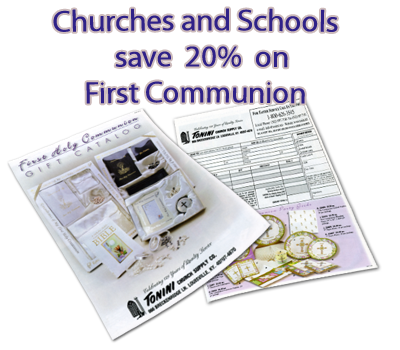 YOUR CHURCH OR SCHOOL CAN REALIZE 20% OF FIRST COMMUNION SALES BY FOLLOWING THESE SIMPLE STEPS:
Earn Revenue for class projects, your school, or church by participating in our First Communion Incentive Program.

A. Distribute our first communion catalog to each member of your class. All selections are made by the students or their parents and the money is collected by the teacher.

B. The orders are collected and sent to Tonini's where they are individually filled and returned to the teacher for distribution to the students.

C. Your organization is given a 20% discount off items purchased from this catalog.

Or...

Distribute our Tonini first communion catalog to each member of your First Communion class. Parents can order directly from Tonini's using our website or toll free line 1-800-626-3545.

(NO INCENTIVE REBATE FOR SCHOOL OR CHURCH FOR #2 OPTION)
Let us know of your decision. We assure you, you will be happy with our merchandise, service and quality. It is important when responding, to advise which option you would like, number of boys and girls in the class, your preference for a ship date and your First Communion date. Please remember to order your catalogs early as there are a limited supply of catalogs and they are distributed on a "First Come First Serve" basis.
For more information you can e-mail info@tonini.net