Other Departments
>
Create Your Own Chasuble

This exciting, new method of ordering features:
Immediately updated cost and appearance as you make your choices
A wide selection of fabrics
Several orphreys that can be added and placed to your liking
Numerous beautifully embroidered emblems.
Multiple options on both collar and lining.
Regular delivery times so you will have your vestment in 3-5 weeks.
No additional cost for customization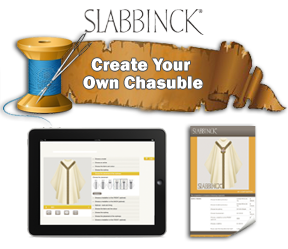 How it works:
Choose whether you want your chasuble cut in a Gothic or Monastic style.

Choose the color and weave of fabric to fit your style.

Choose style and placement of the orphrey or go without for a cleaner look.

Choose from a wide variety of embroidered emblems that can be placed on front or back.

Choose the style of collar and whether or not you want your chasuble lined.

Once you are finished, you can e-mail the design to anyone in your church community. You can also print out as many copies as you need.
Make sure to either e-mail us a copy or call our toll free phone number 1-800-626-3545 with the details of the design to place your order.