Description
Price
Quantity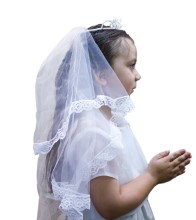 First Communion Veil has satin wrapped headband with satin flowers and imitation pearl decorations. Double tier lace with edging.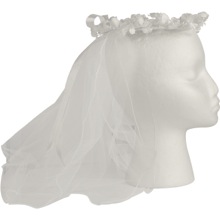 This double tier Ethereal Wreath veil features delicate flowers accented with pearls and an elegant bow. Individually boxed. A lovely choice for First Holy Communion.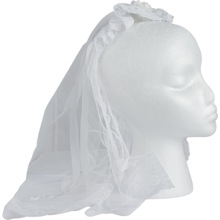 Mantilla style communion veil offers a soft illusion with a wide lace edge, two satin roses and a streamer. Held in place with comb.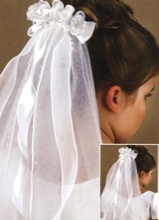 Veil with finished plain edge. Features satin bow with pearls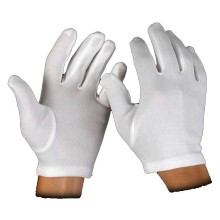 Nylon Gloves size 7-12
Manufacturer Item:
89003 (AGE 7-12)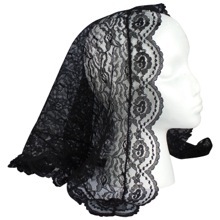 Beautiful mantilla veil, 39" across and 21" deep. Made entirely of a flowered lace with a scalloped lace edge. Available in other colors.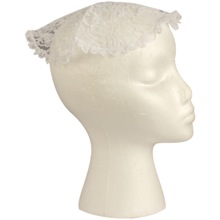 Soft white lace chapel cap, 9" dia. Made of a flowered lace pattern with a scalloped edge.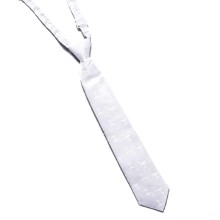 This Satin Brocade Pre-Knotted White Tie, 13" in length, is the perfect attire for First Holy Communion.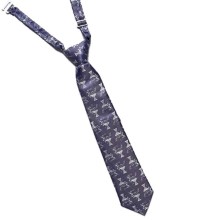 13 1/2" Length - Made of Damask Fabric
Navy blue First Communion pre-knotted tie. Made with Damask fabric. Available in white 71-9006. Roman inc. 95253.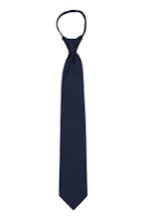 13" Pre-Knotted Nylon First Communion Tie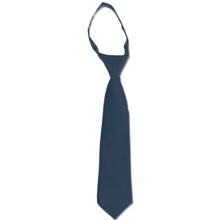 12" Long Neckband ties with adjustable band.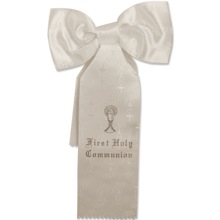 10 1/2" Long, With Chalice Design for First Holy Communion
White Satin Brocade Armband with chalice design for the special occasion of First Holy Communion. 10 1/2" long.