Description
Price
Quantity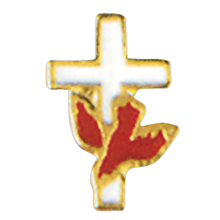 Enamel Coloring - Clutch Back
Gold outlined white/red colored cross and dove lapel pin with a clutch back.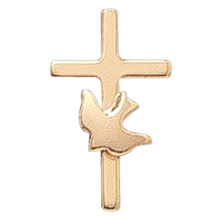 Gold Finish - Clutch Back
Gold finish dove and cross lapel pin with a clutch back.
Manufacturer Item:
32-7014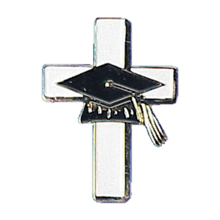 White enameled cross with graduation hat lapel pin. 3/4" x 1".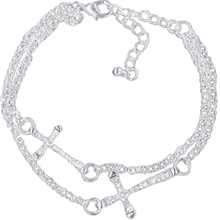 Adjustable silver plated bracelet with two horizontal crosses inset with stones.
Manufacturer Item:
BK-P12006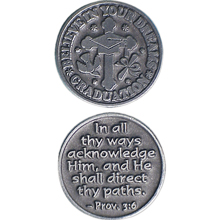 Genuine pewter Pocket Coin with verse from Prov. 3:6
With Copper Colored Beads
This Soldier's Paracord Rosary features a military styled paracord design and copper colored beads.  This uniquely attractive rosary is the perfect gift for someone who does serve or has served in the military and for those who honor our defenders.  The rosary comes with a prayer card and gift box.
Manufacturer Item:
6080/CU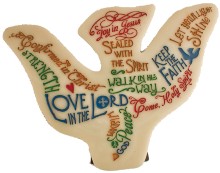 7" X 5 1/4" - Resin - Gift Boxed
 Resin dove confirmation plaque. 7" x  5 1/4". Gift Boxed.
Manufacturer Item:
54936T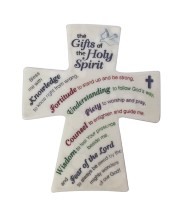 Marble-look plaque is cross shaped and features an etched design. Can hang, or stand with easel backer. Gift boxed. 6" x 7 1/8".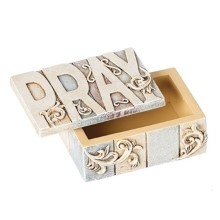 PRAY with Decorative Filigree
Decorative box with 3D filigree design featuring the word "PRAY" Cast resin, 4" L x 2" D x 1-1/2" H.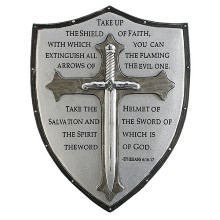 Cast Resin - 6 1/2" Ht x 5" W
 6 1/2" Ht. 5" Width cast resin 3-D plaque. Engraved with cross and sword design. Ephesians 6:10-18 qutoe engraved on design. Gift Boxed.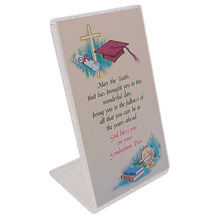 Ideal for use as a class gift. Lucite stand with card.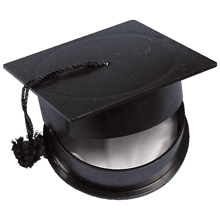 Black graduation Hat box only. Ideal gift box. 23/4" wide