Description
Price
Quantity
This immaculate figurine of Sacred Heart of Mary is fully cold cast bronze and is mounted on a black wood. The statue is left-hand bookend. It can be utilized alone with the wall or combined with the right-hand bookend. featuring the Immaculate
Manufacturer Item:
SR-77855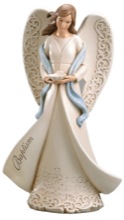 9" Figurine by Joseph's Studio
This beautiful Baptism Angel holding a shell is simply elegant.  The 9" tall figurine is a creation of Joseph's Studio in a resin / stone mix and comes gift boxed.
Manufacturer Item:
602000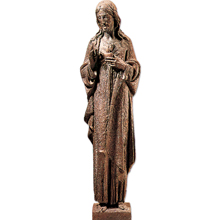 Available in Carved Linden Wood, Cast Bronze, Aluminum or Fiberglass
This beautifully unique Sacred Heart of Jesus Statue was designed by Catholic Sister Mother Mary Angelica, the founder of Eternal World Television Network (EWTN).  This full round statue depicts Jesus standing with his left hand near His Sacred Heart and His right hand raised in blessing.  The statue is available in carved linden wood, cast bronze, cast fiberglass or cast aluminum and is available in the heights of 36", 48" or 60".  Please call us at 1-800-626-3545 for pricing and customization options.
Manufacturer Item:
100/33/FULL ROUND