Description
Price
Quantity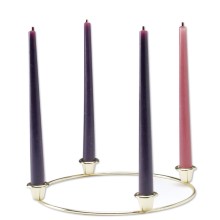 This inexpensive advent wreath 10" Dia., 7/8" x 10" tapers was especially developed to promote home devotion at the lowest possible cost to the family. The lighting of the ADVENT WREATH is one of the fastest growing home observances in Christian households. An easy-to-do church program. Use it as a school project or as a society fund-raising program. Re-kindle the spirit and increase home devotion, and with that same effort - enhance your parish, school, or society treasury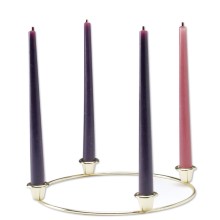 Quantity Pricing Available
This advent candle and wreath set is a beautiful addition to any home, office or classroom. 
This set is an excellent way to develop and promote home devotion during the advent season at the lowest possible cost. 
Each set comes with 4 7/8" x 10" taper candles, 3 purple 1 pink, and a 10" Diameter polished brass advent wreath.  
Manufacturer Item:
69-8013+69-8075