Other Departments
>
Donor Recognition

The Growing Tree is our signature donor recognition display. Designed to be added on to with our standard leaf sections, this tree starts with 100 leaves and grows to 200 leaves, 300 leaves, or more. Many of our tree accessories were created to coordinate with this design.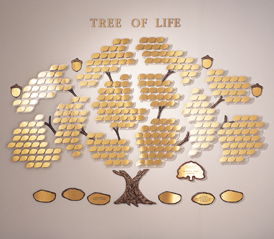 Donor Recognition from Tonini's
Tonini's has helped hundreds of organizations develop customized plans to recognize donors, celebrate events, and commemorate loved ones. Clients have sought our expertise to assist them with fundraising strategies, budget and committee presentations, as well as creative yet effective recognition displays.
Whether you are looking for a donor recognition tree, donor wall, plaque, or sign, we have extensive experience. Choose from one of our standard designs, or enlist our help to create a new motif that is unique to your organization.
At Tonini's, you receive quality products and services that support the efforts of your organization. From the initial planning stages to the final installation, we will guide you every step of the way to ensure that each project is completed to your satisfaction.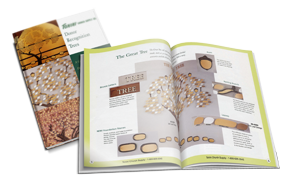 View our donor recognition catalog
Growing Tree Examples: