Description
Price
Quantity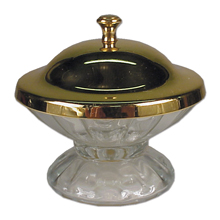 Glass. Gold-plated lid. Ht. 4 3/8". Great for use in Ash Wednesday Celebrations.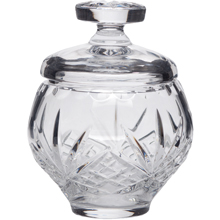 Ash Dispenser for Ash Wednesday Service
Crystal Ablution Cup made of a genuine crystal glass with an etched and carved design. With lid the Ablution Cup stands at 4 1/2" Ht. Features a clear crystal lid. Great for distribution of Ashes during Ash Wednesday services or mass.
8oz. capacity. 4" height x 4" diameter. Glass Top included.
Manufacturer Item:
64192B
Gold Plated Top - 4 3/8" Ht.
This Ablution Cup is made with a crafted crystal bowl with 6 ounce capacity and great for the distribution of ashes. 24Kt gold plated cross and lid. 4 3/8" Ht. In-Stock. Great for use with Ash Wednesdays Services.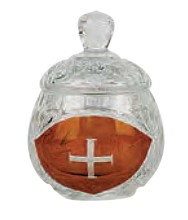 3 3/8" Ht - 3 Ounce Capacity
This Crystal Ablution Cup is great for distribution purposed on Ash Wednesday services and masses. The cup is accented with an engraved cross and amber colored background and is 3 3/8" tall with a 3 ounce capacity.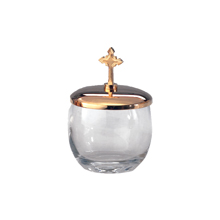 Glass with gold-plated cap, Ht. 4 5/8", 7 oz. Capacity. Great for Ash distribution during Ash Wednesday Services.