Description
Price
Quantity
Genuine pewter with "First Holy Communion" on the front and "WWJD" depicted on the back.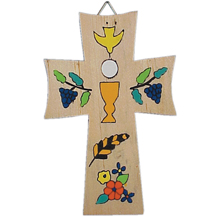 First Communion Symbolic Wall Cross. Hand-made of white pine. Crafted in family workshops of El Salvador. 4-3/4" tall.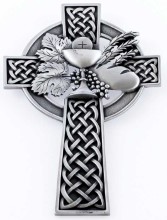 Communion Celtic Wall Cross, 5" pewter cross with antiqued finish.
Manufacturer Item:
JC-10007-E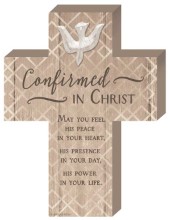 8" x 6" Cross with Pewter Dove
8" x 6" Cross with pewter finish dove accent and MDF frame. Gift boxed.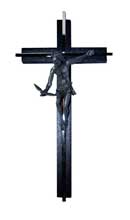 This is a beautiful 5" x 10" Crucifix. Wooden cross stained black with Nickel Plated Inlay cross, includes a 4-1/2" Antique Pewter Corpus.
Manufacturer Item:
JC-6089-E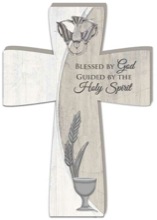 This beautiful R.C.I.A. (Rite of Christian Initiation of Adults) Wall Cross measures 8" x 5.625" x .5" and features raised metal emblems - the Dove of the Holy Spirit and a Chalice with Wheat design - as well as an engraved message that reads Blessed By God Guided By The Holy Spirit.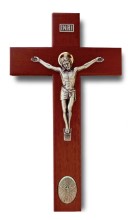 with Holy Spirit Medallion
9" Maple Crucifix in Rosewood Finish with inlaid Holy Spirit medallion.
Manufacturer Item:
17465/H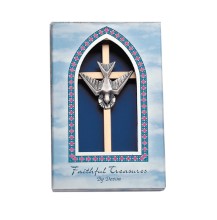 with Pewter Oxidized Holy Spirit
Italian made 4" Brass cross with pewter oxidized Holy Spirit. Gift Boxed.
Manufacturer Item:
7/7629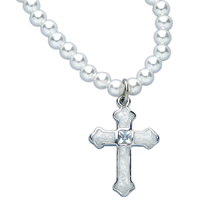 With Sparkling Rhinestones, 16" Long
Glass pearl necklace and pearlized silver cross with sparkling rhinestones, 16" long. Gift boxed. A lovely accessory for the special occasion of First Holy Communion.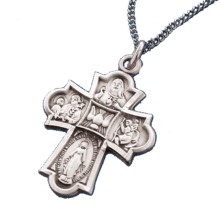 Handsome pewter 4-way cross on 18" chain. Gift boxed.
Contemporary Sterling Silver Holy Spirit Cross pendant on 18" chain. Gift Boxed.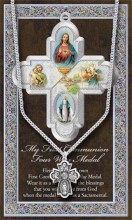 With 18" Stainless Steel Chain and Pamphlet
Genuine Pewter First Communion Four Way Pendant with an 18" stainless steel chain and a silver embossed pamphlet containing information in regard to First Holy Communion as well as an appropriate prayer.
Manufacturer Item:
950-689