Description
Price
Quantity

The wreath atop the stand consists of two 21" aluminum rings joined by gracefully curved strips that intersect to form a bowl shape.  A spiked brass bobeche and pan with a satin bronze finish rises from the middle of the bowl to accommodate a 3" Christ pillar candle. The four surrounding brass bobeches measure 5" Dia. and are equipped with brass candle sockets for 1 1/2" candles. The upper assembly is powdercoated in gold for a satin finish and supported slightly above a brass base.
A wood accent piece connects the wreath to an oak stand fitted with satin-finished panels.  The wreath detaches to leave a Paschal candle stand. 44" Ht. the stand has a 7" satin brass bobeche and 1 15/16" brass socket finished in a combination satin and polish bronze.
The floor wreath and stand are supported firmly by a 12" square wood base, inlaid with metal, to work with the stand.The wood portions of this piece are finished in a Walnut stain. Overall height of 54".
Manufacturer Item:
ZZ3731 + ZZ3921-T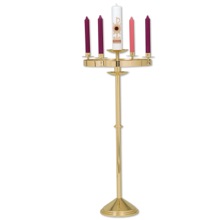 48" Ht. and 12" Dia. Base
High polish brass Advent wreath, 48" high, with a 12" base. 1 1/2" candle sockets. Center candle holder supplied with spike. Candles are not included. Available with tilting head that tilts to 45 degrees 85-0751 as the top only or top and stand 85-0752. Available as candlestick only 85-0750. Also Available as Wreath only or candlestick only. Made in the USA.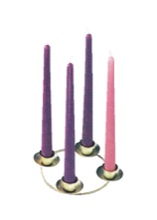 5 1/4" Diameter - Limited Availability
 Gold Plated twisted wire frame Advent Wreath. 5 1/4" diameter. Candle set 69-8075 sold separately.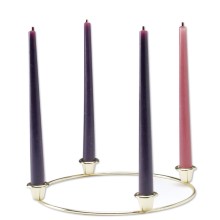 Select Candles or Wreath for Price
This inexpensive advent wreath 10" Dia., 7/8" x 10" tapers was especially developed to promote home devotion at the lowest possible cost to the family. The lighting of the ADVENT WREATH is one of the fastest growing home observances in Christian households. An easy-to-do church program. Use it as a school project or as a society fund-raising program. Re-kindle the spirit and increase home devotion, and with that same effort - enhance your parish, school, or society treasury