Description
Price
Quantity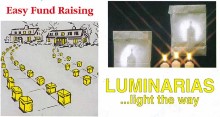 Traditional for Christmas Season
An old tradition along the Rio Grande River has become very popular all across the United States. A simple way to create a warm, unique setting. Can be used as a parish or neighborhood fundraiser. Ideal way to illuminate driveways, streets, neighborhoods, pools, picnic areas, building outlines, etc. Simply pour approximately 2" ƒƒof sand, gravel, or kitty litter into white paper bag, insert candle and light. 1 unit = one candle & one bag.
Manufacturer Item:
LUMINARIA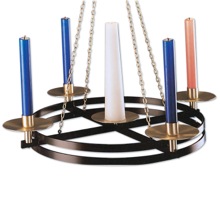 26" Diameter - 4 Ft of Chain
This Advent wreath is made of Two aluminum rings, measuring 26" diameter, bear four brass bobeches along their perimeter. Each bobeche holds a 1-1/2" brass socket for Advent candles. The two rings are connected by intersecting aluminum strips of the same width assembled to form cross bars.  At the center of the wreath, where the crossbars intersect, is a brass spiked bobeche for a three-inch Christ candle.  A 48" chain and yoke is provided to hang your wreath, allowing a drop length of 36".  The wreath assembly is finished in a black powder coat. Candles NOT included. Shown with candles 
69-8087
. Customization is available please call 1-800-626-3545 or send a message on our contact us page.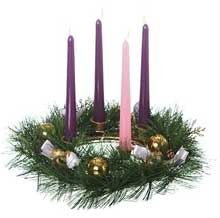 This beautiful Advent Wreath features a sturdy brass base with Christmas tree like greenery, golden ornaments and pink ribbon. Candles Included. Great for use in an office, classroom, retreat or just a home. Gift Boxed. Roman 21075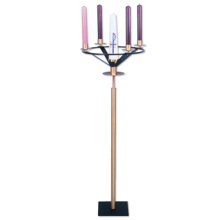 Combination Advent Wreath and Paschal Candlestick. Made in the USA. Comes with 1 1/2" Advent Candle sockets and a spiked pan in the middle for the Christ candle. Removable top 22 3/4" wide, 49" high. When top removed the stand becomes a paschal candle stand with a 1 15/16" bronze bobeche and socket in a satin finish. Dull black and satin bronze finish for the advent wreath. Candles sold separately. 12" square steel base. Customization available please call 1800-626-3545 or contact us page to inquire.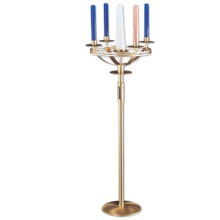 Select Stand or Top Only for Price
Satin bronze finished Paschal candlestick is 49" high, top diameter 24", base diameter of 12". Please specify socket size in order comments during checkout. Available as TOP only. Made to Order. Due to size and weight please call for accurate shipping quote. F. C. Ziegler. 3921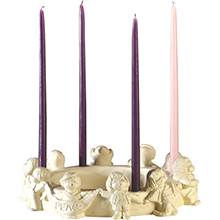 Ten nationalities celebrate diversity and uniqueness. Resin w/ brass candle cups, felt pads on bottom. 10 7/8" diameter. Ceremony pamphlet and 10" x 1/2" candles included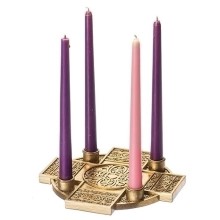 9" Cross - Candles Sold Separately
 9" cross with ornate decorative design. Resin cast in a filigree design. Candles sold separately. Cast resin. Sold with a gift box.
Manufacturer Item:
130806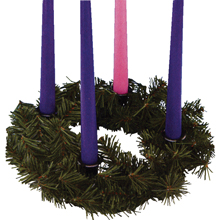 Candles Not Included. Gift Boxed.
11" Traditional Advent wreath with green foliage. Candles 
69-8075
 not included. Gift boxed.
Manufacturer Item:
50-402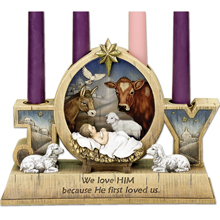 9" x 7 1/2" - Candles NOT Included
9" x 7 1/2" Bas-relief Advent wreath by Joseph Studio. "We love Him because He loved us". Gift boxed. Resin. Candles not included.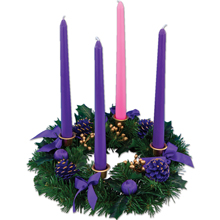 11" Diameter - Candles Sold Separately
11" Pine cone wreath with champagne ribbons. Candles 69-8084 sold separately. Gift boxed.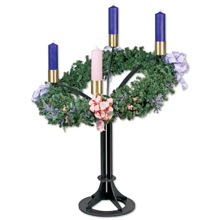 54" Ht. - 35" Dia Top - 18" Dia Steel Base
54" Ht. to top of socket, 35" ring, matte black and satin brass finish, 18" black steel base, up to 3" sockets standard. Candle leveling system. Candles/greenery not included. Smaller sockets available, please advise.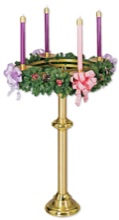 49" Ht. - 26" Dia Wreath - Candles and Greenery NOT Included
49" Ht., 12" Base dia. 26" Ring dia. Candles and greenery not included. 
Crafted of solid brass. Hand finished in a combination of bright and satin surfaces, then protected with lacquer.
Manufacturer Item:
ZZ1937