Tonini Church Supply Co., one of the oldest firms of its kind in the United States, still operates under the principles of our founder, Ferdinand Tonini. Although we advertise "1886" as our founding date, the Rev. Clyde F. Crews, in his book, An American Holy Land, lists Tonini's as a major merchant in church goods. He indicates an advertisement appeared in a German language newspaper dated January 30, 1884.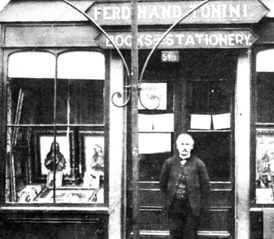 Tonini History
When he first opened his store in downtown Louisville in 1886, Ferdinand Tonini could hardly have dreamed that Tonini Church Supply would one day become a leader in its field, serving a worldwide market. But it happened. And is now in the 5th generation of family ownership - still based in Louisville, Kentucky. The business was a Louisville-area operation until Ferdinand's grandson, Elmore, got back from World War II. During his travels as a bomber pilot, Elmore had discovered a new market - the military, with its countless chaplains and chapels. Soon Tonini's was publishing a catalog aimed at U.S. military installations all over the world. Now tens of thousands of catalogs go out each year to customers of all sorts, and eighty percent of Tonini's business is outside of Kentucky.
Over a typical morning last fall, there were orders from Uganda, Iceland and American Samoa, among other places. Elmore Tonini says his business may be the nation's number one church supply house; it's definitely in the top five. The "liturgical" denominations - Roman Catholic, Episcopal, Anglican and Lutheran - provide the bulk of the business. Candles are the biggest seller. The key to success is old-fashioned service: "Bend over backwards and bite your tongue twenty times to satisfy a customer" says Tonini.
It hasn't always been smooth sailing. The toughest patch came in the early 1960s when the Catholic liturgy was revamped: Latin out, English in. Stuck with 45,000 mass books in Latin and plummeting sales of rosaries, Tonini remembers "lying in bed and thinking, what are we going to do next?" Many companies went out of business, but Tonini found salvation by expanding some product lines, such as flags, and adding some new ones, such as sacramental wine. Tonini has six children working in the business, but he's not ready to quit. "I guess you could classify me as a workaholic. I enjoy working, and I'm too old to play golf or run around."
Tonini's stayed in its original downtown location until 1992, when it moved into this 25,000 square-foot facility in the suburbs. "It already seems small," says Tonini. His 32 employees ship out up to 500 0rders a day.
Reprint from Kentucky Humanities Magazine - a publication of the Kentucky Historical Society
Tonini Timeline
1883 - Our great grandfather founded the business on Green Street.
1904 - Relocated to 636 So. Shelby Street.
1908 - Expanded to 636-638 So. Shelby Street.
1955 - Further expansion was necessary. We purchased adjacent property and increased our addresses to 636-638-640-642 So. Shelby Street. The first floor was completely remodeled and the walls between buildings were breached to unify the store area. Property at the rear of our parking lot, 730 E. Gray Street was purchased for our candle warehouse.
1957 - New space was constructed for our accounting department.
1962 - The entire 4 building complex was converted to store and ware housing.
1992 - Purchased land in a new suburban shopping center and constructed a modern, spacious building for store and warehouse.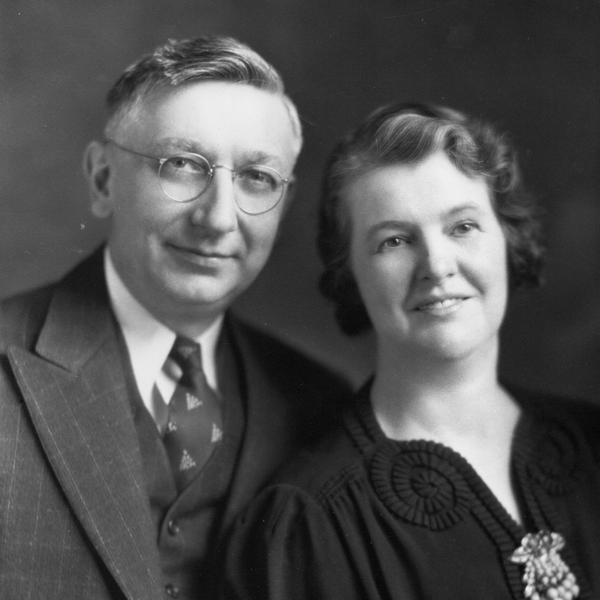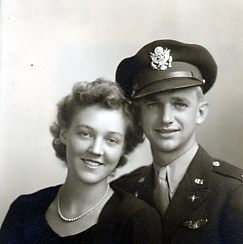 Pictured Above, Left: Edward & Anna Tonini
Pictured Above, Right: Elmore & Cleona Tonini
Over 130 years in business and still growing stronger. In 1883 our great grandfather founded our company under the policies of Service, Integrity, Quality, Knowledge of Product, and Satisfaction. Today, we still operate under these same principles.