Other Departments
>
Church Signs

We our proud to offer a wide range of church signs to our customers. From large outdoor signs to small indoor signs we have or can have made anything you need. Our signs will give your church or insitution a professional look they are beautiful, durable, and easy to use. Contact us today at 1-800-626-3545 and let us aide you with your sign needs.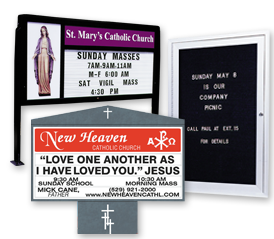 Outdoor Signs
Outdoor Church Signs have always been a specialty of ours. Our project experts have the knowledge and expertise to make sure your sign is delivered and installed without a hitch. We offer a wide range of outdoor signs from small parking signs for the laity to extremely large digital and metal signs for some of the largest congregations.
Here we present an expanded look at our church sign offerings. Not only can we assist you with new signs but sometimes old signs can be spruced up, and retrofitted with modern board pieces and lights. View our catalog below and contact us today and let one our sign experts help you with your next project.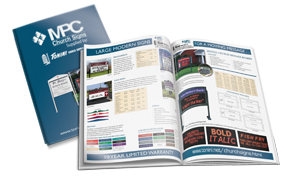 View our Outdoor Sign Catalog
Indoor and Outdoor Visual Church Signage
We offer a large selection of Indoor and Outdoor Bulletin Boards, Letterboards, Readerboards, Dry Erase Boards and Digital Signage Boards, as well as crowd control products such as "Message" Tape and Rope Posts. Double-Sided and Bottom-Hinge Outdoor Message Center, Custom Printed Glass Dry Erase Boards, specialized Corporate Boards, and Digital Message Boards are some of our newer offerings.
Our large selection of premium boards and accessories has helped develop our strong relationship with churches across the United States. . From custom ordering to custom boards, Tonini's is your choice in high-end, low-cost visual boards.