Other Departments
>
Restoration and Repair Services

Skilled craftsmen, who take pride in their workmanship, restore heirlooms and precious items as near as possinle to their original condition. All articles are cokpletely repaired prior to restoration.
Before Gold or Silver plating, all items are hand-buffed down to the base metal. Craftsmen then meticulously hand polish each piece to remove as many scratches, pits and imperfections as possible. Great care is taken to achieve the very best finish. While we specialize in 24KT Gold and .999+ Silver plating, we can also plate in Copper, Brass or Nickel.
Expert analysis of each piece (repair and replating) is reviewed. After your approval, we meticulously repair damaged areas and replace any missing parts if possible. Recreating the original design, at times, requires special talent and ingenuity. Our expert team then intricately polishes each piece, which reveals its newly achieved beauty and renewed life. We take care to preserve any engraving or specialized finish. Our craftsmen then coat your piece according to your instructions. Upon completion, your cherished article shows its original magnificence and luster.
To inquire email us with a picture with ruler for scale and description at info@tonini.net or call us toll-free 1-800-626-3545.
What type of items can be restored, repaired or refinished? Almost ANY metal piece. Most ANY Statuary. Pews, Pulpits, Chairs and Altars.
Candlesticks, Chalices, Common Cups, Ciboria, Candelabras, Communion Rails, Offering Plates, Flower Stands, Crosses, Crucifixes, Tabernacles, Bells, Censer/Boats, Vases, Advent Wreaths, Chandeliers, Lecterns, Kneelers, Offering Boxes, Ambries, Holy Water Pots, Holy Water Fonts, Sprinklers, Baptismal Fonts, Stations of the Cross, Missal Stands, Votive Stands, Prie Dieux, Sanctuary Lamps.
What Kind of Damage can be Repaired or Fixed?
Every Situation is unique, Tonini's has over 130 YEARS of experience fixing almost any item. Most common issues are with tarnishing, scratches, dents, water damage, fire damage, vandalism, broken locks, missing keys, faded colors, chips, cracks and many others. We use expert craftsmen who have trained for years to handle a broad range of problems. We have seen it all, Contact one of our many experts today and get your items back to looking new again!
When repairing and restoring items remember this is your chance to improve your product. Add an engraving, Add enamel coloring. Personalize it in any way.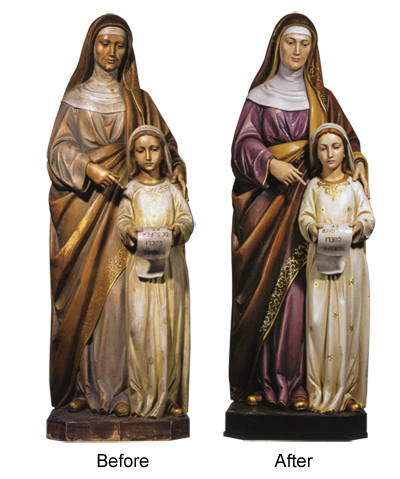 Before: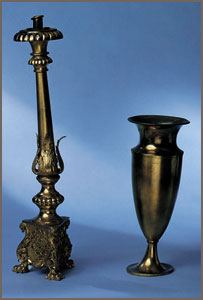 After: